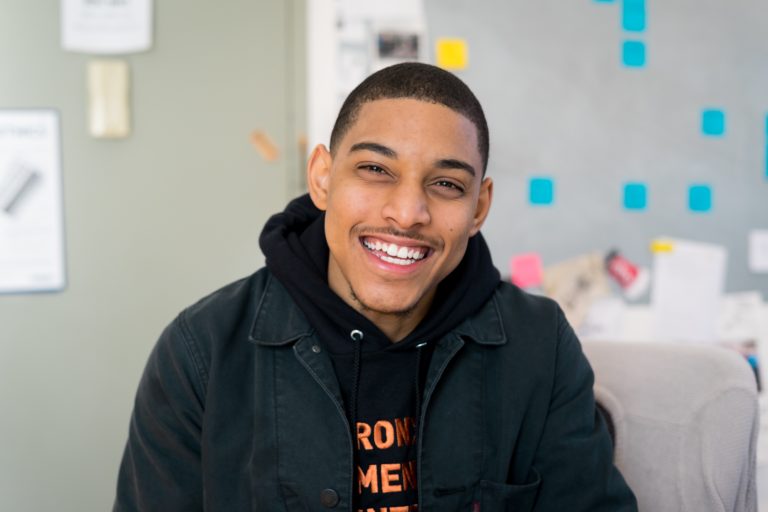 Harry Montas takes pride in being a self-taught photographer. In his teen years, his hunger to learn more about photography led him toward YouTube, where he spent hours watching tutorials on the craft that inspired him.
While his interest in photography was growing, his attention for school had been on a steady decline. "I was kicked out of my first high school for tardiness and absences," said Harry. Although at that time it might have seemed like failure, it was the path that led Harry straight to East Side House.
Entering Bronx Haven High School, an East Side House partnered school, Harry found the supportive environment that had been lacking in his previous high school. He found teachers and staff that motivated him in the demands high school classes without discouraging his other talents and interests. It was the dedication, he says, of East Side House staff that helped him reinvest his attention on high school.  "What was the end of the old high school career, was the beginning of a new one."
Harry blossomed in the Learning to Work program model, where he gained valuable experience through paid internships that re-invigorated his old thinking about education.  As Harry got back on track toward graduation, he began to see a high school diploma differently. With the help of East Side House staff, graduation seemed less of a finish line, and more of a starting line. "At first, I really didn't want to hear about school for a while, but no one at East Side House was having that," said Harry. College, he realized was a way to open more opportunities for him- even as he pursued a career in photography.
Academic guidance and educational resources weren't the only thing Harry gained from East Side House. One lasting reminder of East Side House is the very tool of his trade. Though borrowed equipment and camera phones had once sufficed, Harry was finally able to buy himself his first professional camera using money he earned during his internship.
With a professional camera finally a reality, the world became Harry's canvas. He looked for subjects to capture everywhere, and found encouragement from East Side House staff who gave him a chance to display his talents. "They aided me all along, helping me in whatever way they could, listening to my ideas on community projects," said Harry. Soon he was linked to another community organization where he began taking photography classes and working with seasoned photojournalists. All the academic struggles he had previously, seemed to fade to the background as he began to build a foundation for his future.
Harry's association with East Side House did not end with his graduation day in 2016. Today, the Guttman Community College student holds duties as the unofficial East Side House photographer. Harry photographs everything from staff portraits, programs and activities, and graduation ceremonies. Recently, he even served as the photographer for the Student Ambassador trip to Europe, making sure each life-changing moment on the 10-day-trip was captured.
Working  for the organization that helped him get back on track with his education is a winning formula as he looks to gain experience and credentials as a photographer. "I'm at an early stage in my career. East Side House is giving me the opportunity to show what I can do with photography and film," said Harry.
Harry says he is immensely grateful for the opportunity to document images that matter to East Side House. His photographs are now used to tell the story of the organization, and he finds meaning that it's a story he knows himself. "A lot of the people will tell you, East Side House is not just a place, it's a home."