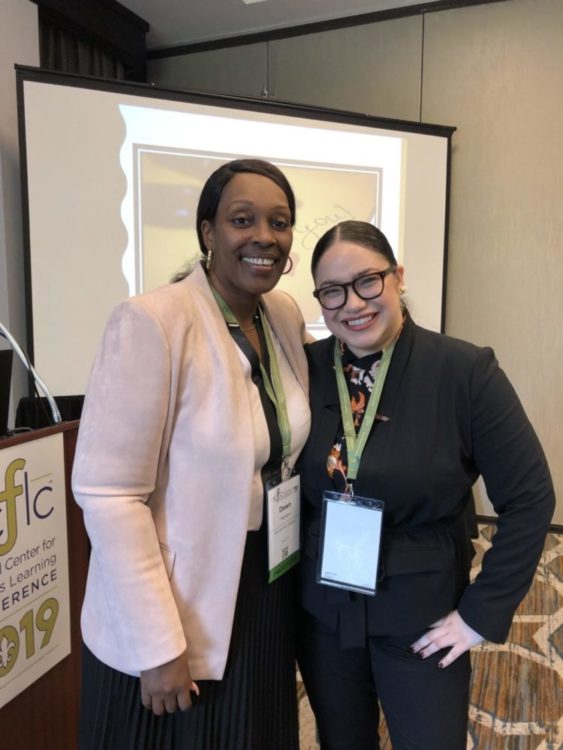 Due to our successful track record and innovative strategies, ESH has been identified as a leader within the family engagement sphere by The National Center for Families Learning (NCFL). As a part of our designation as a leader in family engagement, NCFL asked ESH staff to present on our strategic approach to intergenerational learning at the NCFL Annual Conference in Louisville, Kentucky earlier this month.  We were excited to share our successes and strategies with others, including a new initiative to engage local senior citizens in early childhood classrooms in our "Adopt a Grandparent" program.
NCFL's annual convening brings together professionals from all over the country to exchange best practices, innovative strategies, and resources to help families succeed. Dawn Heyward, Deputy Director of Early Childhood, and Diana Rodriguez, Director of Government Relations, presented to a room of 40 participants which included education leaders from public libraries including the library of Congress, early childhood centers, and family engagement centers in California, Texas, Arizona, North Carolina, and Florida.
Intergenerational learning aims to bring people together in purposeful, mutually beneficial activities which promote greater understanding and respect between generations and contributes to building more cohesive communities. "The idea is to have seniors not just as volunteers in the classroom, but for them to have meaningful interactions and a shared experience with our younger students," explained Rodriguez. This strategy benefits everyone – the well-being of seniors is met by providing a sense of purpose, while the students gain the knowledge of and connection to older generations. For ESH, including older community members in programming means that our youngest students have an opportunity to connect to the history of the community through the stories of the older adults.