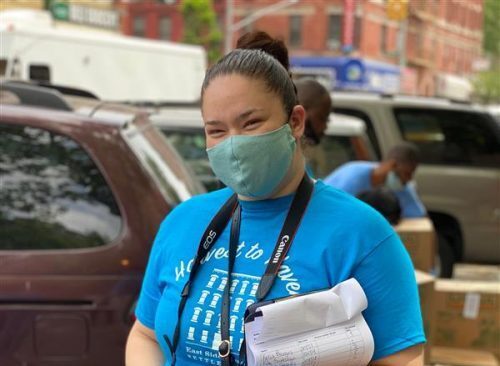 Diana Rodriguez has been a beloved member of the East Side House community for the past 6 years, most recently as our Director of Government Relations where she has built relationships with coalitions and elected officials, and advocates for policies that can better our communities.
When COVID-19 hit, she kept up her work by checking in with families and partners in our community. Right away, one of the biggest concerns she heard was about food insecurity. Families were not only worried about staying safe when going to the grocery store, but also the ability to pay for groceries as layoffs and cuts to hours became more widespread. So, when East Side House announced their new partnerships with farmers around the country to bring fresh and free produce to the Bronx, Diana was one of the first volunteers to support the initiative.
"It was amazing how quickly we were able to shift the focus of our work to meet the needs of the community," she said. The new Harvest to Haven initiative not only addresses food insecurity in the South Bronx, but also creates an opportunity for ESH staff to check in with community members to provide access to other resources and assess the overall needs of those ESH works with.
When asked about what she'll remember most from this experience, Diana recounted one of the distribution days at Mott Haven Community Center. It was a hot day and the queue of folks waiting for a food box stretched around the block. With so many people on line, the team was feeling overwhelmed and concerned about not being able to serve everyone who showed up. All of a sudden, a man who had already gone through the line and received his food box, walked up to the group of staff managing the distribution. With him, he carried a gallon of water and cups to say thank you. It reminded Diana of the reason so many people find themselves volunteering with new fervor these days, the drive to "give back and do something for someone else, despite feeling unable to change your own situation. We may be giving back, but we're all getting a lot out of it."
East Side House is so grateful for all of our partners and staff who have volunteered their time in support of the community. If you would like to support this work, please consider making a donation today. Stay tuned for more staff stories!