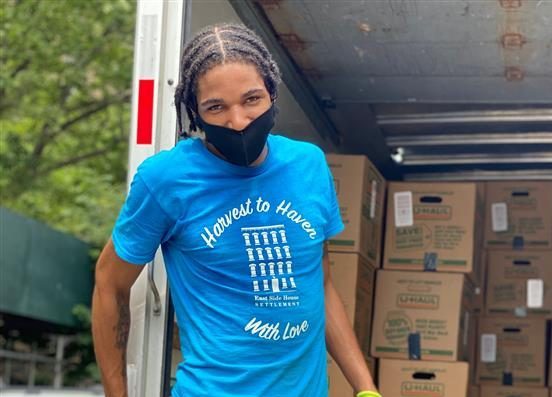 "Once you are here, you become family…"
As a teenager growing up in the South Bronx, Hakeem found a home at East Side House's teen program at Mitchel Community Center. It was a place he felt safe and the staff nurtured his talent and love for basketball. Through East Side House Services, Hakeem was placed in an internship in the after-school program, where he discovered he loved working with young people. He wanted to become a basketball coach. He was then hired as a Group Leader in the after-school program, and worked in the teen program he once attended, helping to grow the program to serve over 50 students per site. As the program grew, so did his responsibilities and he was soon promoted to be the Athletic Director, helping to organize basketball tournaments within the community.
As the needs in our community shifted amid the COVID-19 pandemic, Hakeem saw another opportunity to give back to his community. "When you see people needing food, you do something!" It was something he felt he had to do, and so he did. From securing pantry items, building boxes, loading and unloading the truck, distributing food, and packing food into people's carts – he does it all…and with a smile. "Every time we give out each box, we see their smile and they say, 'thank you' and 'God Bless'. It gets very hot, and the line can be overwhelming, but seeing the impact you're creating makes it all worth it."
Hakeem has long been a hero to the community. As described by Althea Stevens, East Side House's Department Director of Community- Based Progams, "Hakeem is one of the most warm, sincere people I've ever met. He has always been so dedicated to the community and the youth. I'm extremely proud of the man and father he has become, and feel lucky to have have been apart of his journey."
East Side House is so grateful for all of our partners and staff who have volunteered their time in support of the community. If you would like to support this work, please consider making a donation today. Stay tuned for more staff stories!